33 Top Most Dangerous Dogs List – Fierce and Aggressive Dogs
A Collection of the World's Most Dangerous Dogs Breeds
Dog attacks are traumatic and in some cases, tragic events. Tell a dog owner that his dog is dangerous and you will probably get rebuffed.
The sad truth is that some dogs, like their wolf and jackal relatives, are prone to aggressive tendencies. Should you rub one up the wrong way unwittingly, the consequences are disastrous.
But we firmly believe that all dogs can be trained to be disciplined and balanced. It is only when these dog breeds are untrained that they launch unexpected attacks.
Here is a list of 33 dog breeds that display their fighting spirit, physically, if they are provoked. Note that these most dangerous dogs, like all others, are friendly until a stimulus triggers their hostility.
1. Tosa Inu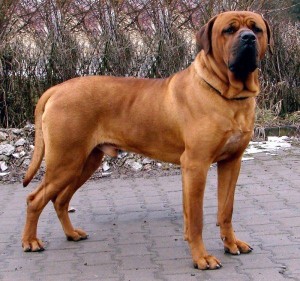 The list begins with the Tosa Inu, or Japanese Mastiff, a large, fawn coated dog originally bred in Tosa, a region in the Kochi prefecture of Japan. Breeders crossed bred him with large, European dogs until they came up with a hefty, strong dog that could trump others in fighting competitions.
Though fairly mild in appearance, the Tosa Inu has made it to the top of the list of fighting dogs. Law enforcement agencies rely on his strength and agility. The Tosa Inu's bite and might are deadly. He can, and has been known, to kill. In 2006, one killed eight-year-old Moscow native, Dasha Kuropatkina.
When not provoked, the Tosa Inu is a gentle, quiet dog. He has an even temperament, and when exposed to social situations, is wonderful with children. This said, this formidable dog is not for everyone. He must receive proper obedience training, especially leash training, since he tends to tug.
2. Cane Corso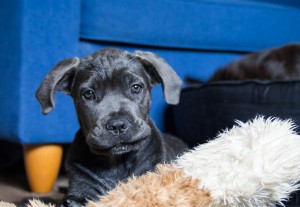 Do not trifle with this Italian native. The Cane Corso, or Italian Mastiff, has a big bite.
This fawn or dark coated dog descends from the Canis Pugnax, used in Roman times for warfare. He served as a capable assistant to wild boar hunters, and helped farming families guard their livestock. Many continue to use the dog for this purpose today.
A Cane Corso's bite is punishing. In July 2014, two Cane Corsos attacked helpless jogger Chris Systma on a dirt road in Metamora, Michigan. The Michigan courts have removed them from their owners, Sebastiano Quagliata and Valbona Lucaj.
If you want a powerful dog to discourage the man who keeps walking under your window, consider a Cane Corso. Usually quiet, his alertness is incomparable. That said, let him get to know people and other dogs. This strong fellow needs plenty of exercise. This training video shows a tough Cane Corso pulling on several tires, successfully, with his teeth. You wouldn't want to mess around with a Cane Corso after watching this:
3. Bull mastiff
A close relative of the English Bulldog and the English Mastiff, the short-nosed, brindle-colored Bullmastiff cuts an imposing figure.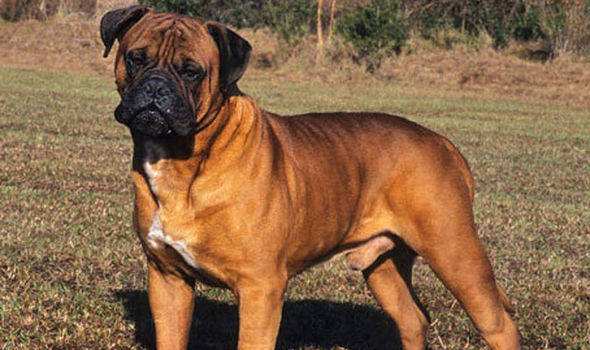 The wardens of English manors used these dogs to guard estates. The Bullmastiff helped them to protect the estates' animals from poachers. His brindle coat served as an effective camouflage at night.
Bull mastiffs become wild when not supervised. 60-year-old Kathleen Dagg, who tried to stop one from digging in her garden, was savagely bitten to the bone.
This relatively quiet dog is a loyal and responsive fellow when he receives enough exercise. Do not push him too hard, as he is susceptible to joint injury and other orthopaedic problems. Sensitive, he is highly trainable. Watch this Bullmastiff training.
To prevent any aggression, teach your bullmastiff social skills early. If he interacts enough with people and other dogs, he will become attuned to social situations.
4. Gull Dong
A Pakistani breed, the Gull Dong (Pakistani Bull Dog) is rare. His white coat is short, simple and nondescript, but he certainly knows how to make his presence felt.
A cross between a Gull Terr and a Bully Kutta, the Gull Dong is a popular protection dog in Pakistan. According to lawyer Mike Morse, he is one of the most reported dogs in dog bite cases.
Like other mastiffs and bull dogs, the Gull Dong is not a noisy breed. Many know him for his affectionate temperament. This dog will guard his owners with his life. He needs daily exercise. When training him, set yourself up as his pack leader. He is an obedient dog if he has a good rapport with his owner.
5. Doberman Pinscher
Developed in 1890 by Karl Fredrich Louis Doberman, the Doberman Pinscher is a mix of different breeds. These include the Great Dane and the Rottweiler. He has a black coat, brown paws and a brown muzzle. The United States Marine Corp adopted the Doberman as its official war dog in World War 2.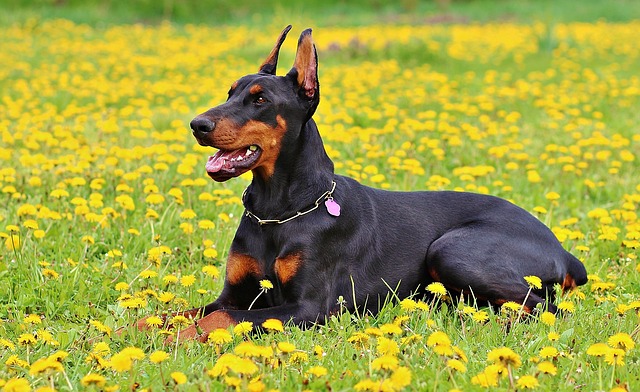 Kurt is a famous Doberman who saved the lives of 250 marines when he warned them about nearby Japanese soldiers. Mortally wounded by a grenade, he was the first dog buried in the US war dog cemetery. He is the dog depicted sitting alertly on top of the cemetery's War Dog Memorial.
Devoted though he is, the Doberman tops nearly every list of ferocious, aggressive dogs. He was responsible for 9 mauling deaths in the United States between 1979 and 1998. It is highly responsive to attack training.
This said, the Doberman is not likely to turn on its owner. He is obviously a highly skilled guard dog, but is also loyal and affectionate. With proper exercise and social training, he is a wonder around children and other pets.
6. Dogo Argentino
The Dogo Agentino has brawny muscles that give him a stoic, impressive appearance. He was bred in Argentina by Antonio Nores Martinez, who wanted a dog that showed courage and would protect its owner to the death.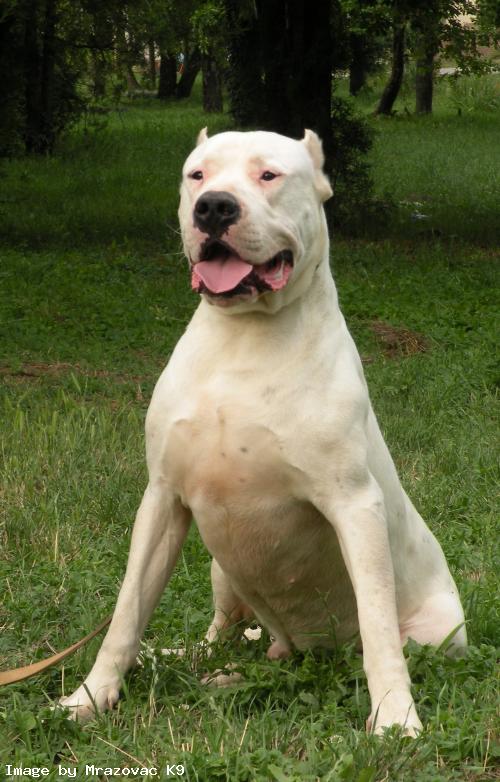 This white-coated dog was first bred for hunting, so he has a hunting dog's uncanny, fierce instincts. A Dogo Argentino in Oklahoma attacked three children as they walked home from a church service.
This dog is an intelligent breed that is easy to train. Law enforcement agencies rely on him as a protection dog. With a keen nose, he is also used in search and rescue. And here they are pictured in pig hunting.
When Martinez bred the Dogo Argentino, he realized that the dog had to have social skills despite its fierceness. The Dogo Argentino does much better in social environments than many hunting or fighting dogs. Again, he needs regular exercise and social training.
7. German Shepherd
The German Shepherd Dog(GSD), a renowned breed, is a dog synonymous with bravery, faithfulness and of course, instilling fear.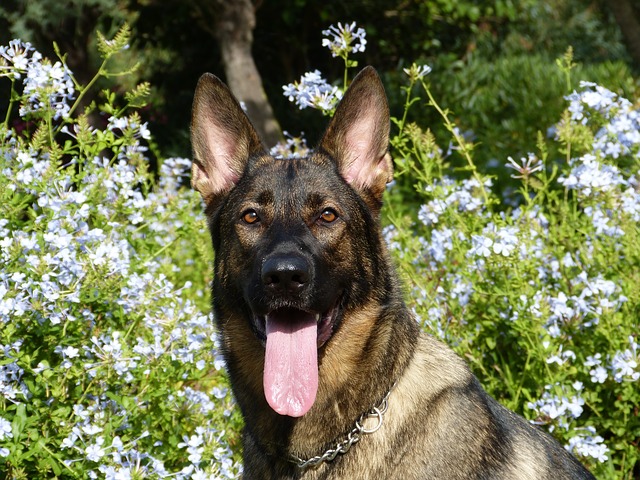 First bred in Germany, farmers used him to gather and guard their sheep. Not surprisingly, this dog becomes aggressive when anything stirs his protective instincts. Some GSDs, though few, have turned on their owners. 13-year-old Iona Manson, from Birmingham, had her face torn by her GSD puppy, Fidden. In spite of the attack, she is not deterred from loving dogs. She is still close to Fidden's brother, Bracken.
German Shepherds may become dominant. Most have even, confident temperaments and rank among the world's three smartest dog breeds, after the poodle and border collie.
Keep your German Shepherd's dominance in check with proper care. Being large, he needs regular, moderate amounts of exercise. He bonds tightly with his family and enjoys family activities like hiking, beachcombing or swimming. Many GSDs become protection or police dogs.
8. Tibetian Mastiff

The Tibetian Mastiff, an ancient Tibetian breed, was a livestock guardian and shepherd. He still is. The tribes of Himachai Pradesh use him to protect their property from bears, wolves and leopards.
Although he is a prized status symbol, many Chinese cities have banned their residents from owning him. They have good reason to. A woman in Miyun County, Beijing, had approached her neighbor for advice on shutting her leaking gas pipe off. Her neighbor's Tibetan mastiff attacked her multiple times, causing her to suffer from a brain haemorrhage.
This dog needs the firm hand of an experienced owner who knows how to set boundaries. Introduce him to your neighbors and their dogs early. Engage him with exercise and activities, or he will become a destructive nuisance.
9. Great Dane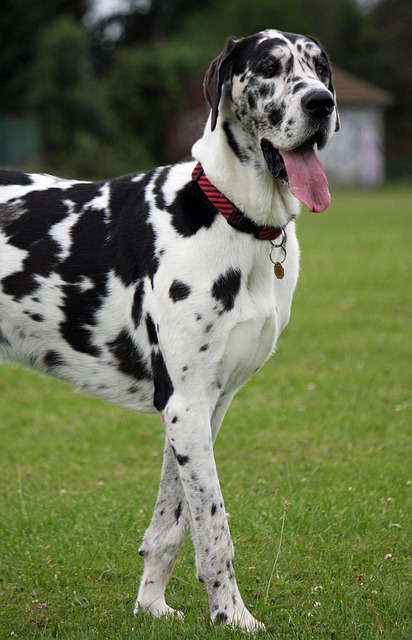 If the Great Dane's serious demeanour does not scare you, his sheer height will. The tallest Great Dane, measured in 2014, measured 112 cm from paw to shoulder. The English nobility bred this dog as a hunter. He can have a fawn, black or brindle coat. Some great danes have sleek, steel-blue coats.
These dogs, if not trained, may feel threatened by external stimuli. Four of them attacked an eleven-year-old boy who was trying to feed them. His neighbor reported that two of them had attacked her dachshund.
This defensiveness, and their sheer size, makes them intimidating.
This said, owners prize these dogs for their friendliness. Rein in any fierce tendencies with social and obedience training from an early age.
10. Perro de Presa Canario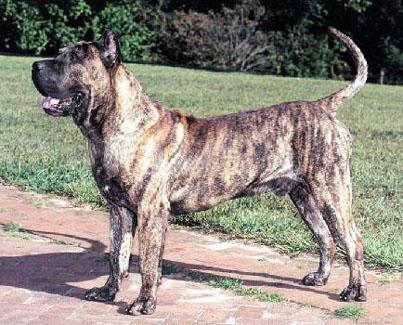 The Perro de Presa Canario, or the Presa Canario, is a Spanish native. Spanish farmers on the Canary Islands first relied on these fawn coated dogs to look after their livestock.
The Canary Islanders also used them as fighting dogs. Their fearsome expression and short, brachycaphelic muzzles make them ideal for the role. They are known for attacks on people. The most famous case in point is that of Diane Whipple, a small-sized woman mauled to death by two Presa Canarios, Bane and Hera, outside her San Francisco apartment in 2001. Their owners, Marjorie Knoller and Robert Noelle, received jail sentences for involuntary manslaughter after a long debate on whether the San Francisco courts should treat the attack as a murder.
To prevent his aggression, give your Presa Canario obedience and social skills training from an early age. If left unchecked, he can become wary of strangers and welcome them with a bite, instead of a lick.